If you are looking for the best beaches in Europe, you may get distracted by the popular beaches in Southern Europe. However, the chances are that this way you will miss the real undiscovered gems that are actually in Nordic Europe – the beaches in Latvia.
We have something special and a lot less crowded to offer here. Some of the best beaches in Europe are actually the beaches in Latvia. This is especially so if you love pristine nature and tranquillity. You may wish to check out these 9 reasons to consider Latvia's beaches first and keep reading this post to discover the best beaches in Latvia.
Here is the full list of 12 best beaches in Latvia starting from the South – West coast of the open Baltic Sea and ending in the eastern coast of the Gulf of Riga. Be prepared to get more than surprised!
#1: Liepaja: A place where the wind is born
Liepaja or Liepāja city (in Latvian) has the widest sandy public beach in Latvia. This beach is among the best beaches in Latvia.
Liepaja is about three hours drive from Riga. Yet, once you are here you will see why it is worth coming.
Liepaja beach is in a walking distance from almost any place in the city. We also call Liepaja the place where the wind is born, and it is not without a reason. The city lays at the open Baltic Sea and the winds use to be quite strong here. However, the beach here is with sandy dunes. Hence on sunny but windy summer days you can lay down in the dunes and heat yourself up.
Liepaja beach is also popular for kite surfers. One summer weekend (usually at the end of July) Liepaja beach gets a bit busy because of the music festival Summer Sound held right on the beach. Any other time Liepaja beach is perfect for tranquil holidays.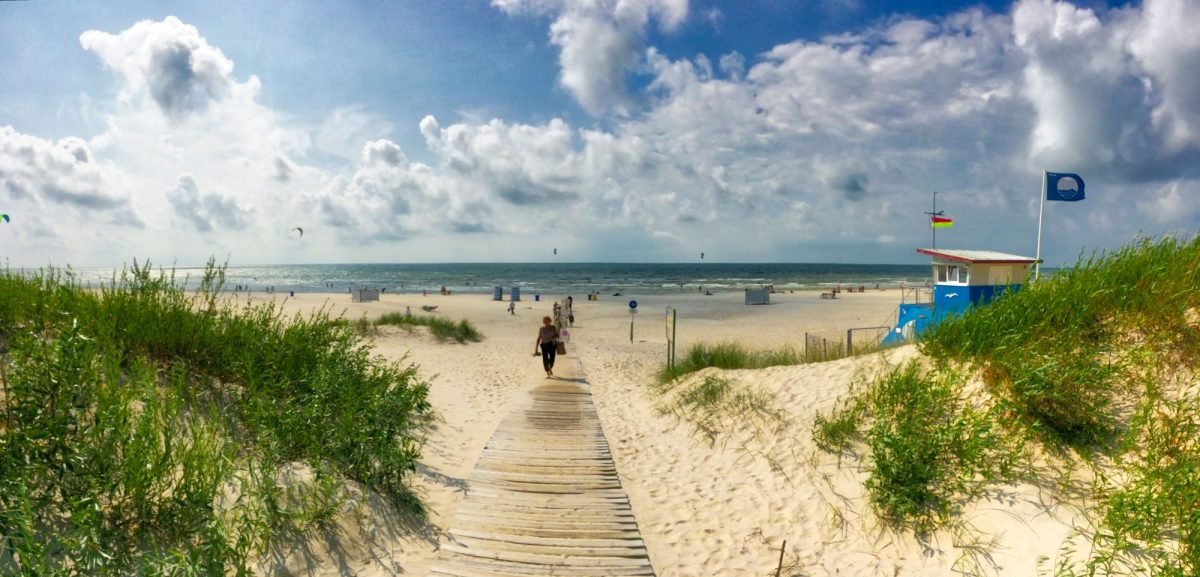 The Old Liepaja city has cozy wooden architecture and the dune area is green. You will not find tall concrete buildings on or near any beaches in Latvia.
Liepaja beach is also great for swimming.
#2: Bernati: Amazing secluded beach close to Liepaja city
Bernati or Bernāti (in Latvian) is a wonderful wild nature reserve just some 15 minutes ride to the South from Liepaja city.
Bernati has a gorgeous wide sandy beach, pristine pine forest, and some cozy guesthouses. You will find a tranquil atmosphere and wilderness here.
Be careful while going swimming in the Baltic Sea here. Do not go deep and avoid swimming in stormy weather. Bernati is a place famous for its rip currents too. Otherwise, it is a magical place to stay.
#3: Pavilosta: Enjoy the charm of authentic Latvian fishermen village
If there is one traditional fishing village that you should visit while traveling in Latvia, then it is Pavilosta (or Pāvilosta in Latvian). It is in between Liepaja and Ventspils cities.
The village has a traditional black wooden architecture (even the new houses) and one of the best white-sand beaches in Latvia. The beach here is sandy, beautiful, and it has direct access from the village. There are some stones both on the beach and in the water. Yet, they will not spoil your excellent experience in this beautiful place. Just be careful while entering the water.
There are many good guesthouses in Pavilosta all being very close to the sea. Pavilosta is the paradise for local kitesurfers and windsurfers. It has also one of the biggest natural grey dunes in the Baltic states – a place to visit.
You will find the tranquil atmosphere and traditional smoked fish in Paviolsta. The latest goes very well with the local bear. The most popular smoked fish is flatfish called "bute" here.
Pavilosta is also a great place to start or end one of the best coastal hikes in Latvia.
#4: Jurkalne: Discover the most spectacular steep coast of the Baltic Sea
Just some 20 km/13 miles north from Pavilosta you will find a different beach. Jurkane (or Jūrkalne in Latvian) is famous with its steep sandy sea coast. It is nothing less but spectacular. Also, the sandy beach in Jurkalne is exceptional.
Jurkalne is smaller than Pavilosta, yet you can find some cozy guesthouses here if you book in advance.
#5: Venstpils: Enjoy the comfort of the city on a beautiful beach
If you are more into cities again then Ventspils could be your choice. Venspils is the biggest port in Latvia and one of the biggest in the Baltic Sea. It has a very good infrastructure and its public beach complies with all the Blue Flag requirements.
Note that due to its specific location at the Baltic Sea Venspils is sometimes not the warmest place in Latvia during the summer. Yet it has a beautiful sandy beach both in the city and in its surroundings.
There are also good restaurants, hotels, and guesthouses in Ventspils.
#5: Kolka: A place where the "two seas" meet
Head to the North-East from Venspils and you will enter pristine nature and wilderness: Slitere National Park. Its main place of attraction is Kolka Cape – the place where the "two seas" meet.
You will find open Baltic Sea on the West and the Gulf of Riga on the East from Kolka Cape. The beach is gorgeous on both sides. It is among the best beaches in Latvia. Yet, do not swim near Kolka Cape. The waves here often come from different directions and crash on each other. The waves and streams make the bottom of the sea very unsafe here.
Slitere National Park and Kolka Cape are not that easy to reach if you do not have a car. Yet, it is a perfect place for different eco-tours and outdoor adventures. You can take an adventurous day trip and explore the wild coastal hiking trails and ancient Livonian fishing villages here. Or you can enjoy the most secluded beaches of Slitere National Park while staying in a campsite or in some of the scarce guesthouses in this region.
#6: Melnsils: Probably the silkiest sand you have ever experienced
Melnsils is a village on the western coast of the Gulf of Riga.
The beach is not that wide in Melnsils. Yet it has the softest and silkiest sand that I have seen in Latvia. It is a perfect place for a beach day or two.
There is also great glamping place called "Melnsils kempings" right at the sea. For the most romantic ones, it has an option to stay in the so-called barrel huts. Most of these huts have no electricity and there is only a space for a bed, a couple of baggage items and shelves there. Yet, the bed is large and comfortable right at the large window facing the sea(!) Thus you can watch the sunrise even not getting up (if you wake up early enough, of course). Needless to say, that these barrel huts are usually booked well in advance, but you can stay in a tent here as well.
The Gulf of Riga is much calmer than the open Baltic Sea. Hence Melnsils is a perfect place to try-out stand-up paddle boarding and kayaking in the sea. You can even paddle near the coast for a couple of kilometers and enter the wild River of Melnsils here. This is an exciting experience.
Walk some 100 meters from the campsite or more to any direction on the beach and you will find tranquillity, peace and amazing nature all in one.
All these various options here make the beach in Melnsils one of the best beaches in Latvia.
#7: Kaltene: A stony beaches with amazing scenery
Kaltene beach is different. It is stony. It is probably not the best destination for those who just want to lay down on a sandy beach. Yet is beautiful.
The stony seashore here is different from other places in Latvia. There is a couple of places with sandy beaches too. One of them is the public beach in the Kaltene village itself.
Kaltene beach is a great bird-watching spot and there is even a bird watching tower and the so-called "birds' path" here.
Kaltene beach is also great for a day hike and quiet beach holidays in Latvia. You should look for accommodation in Kaltene or in Roja Town if you want to stay in this area.
#8: Lapmezciems – Ragaciems – Klapkalnciems: A trinity of fishermen villages close to Riga you won't want to miss
Three fishing villages Lapmezciems (Lapmežciems), Ragaciems and Klapkalnciems are not far from Riga. It comes with its advantages and trade-offs.
The beaches in all these tree places are amazing and definitely among the best beaches in Latvia. They are embraced by beautiful pristine coastal pine forests.
It takes only about half an hour or 45 minutes to get there from Riga. A trade-off is that all these three villages get more and more popular. The people who do not want the hustle of the public Jurmala and Riga beaches come here looking for more tranquillity.
The only reason why these beaches receive fewer visitors than the ones in Jurmala and Riga is that you need a car to get here. Yet, on a sunny summer day, you will not find much of tranquillity here. You will discover something from the atmosphere of authentic Latvian fishermen villages though.
On working days, the beaches of Lapmezciems, Ragaciems and Klapkalnciems villages get back their tranquillity though even in summertime. Hence they are definitely a place to go.
#8: Jūrmala City beaches: "Classic" city beaches in Latvia – not the same as the city beaches elsewhere
Jurmala City beaches are sometimes the only known beach destination for most of the people traveling to Latvia.
Jurmala is a long resort city very close to Riga. It has a sandy beach that is popular both among the locals from Riga and the tourists.
Jurmala beaches are a great option for those not having a lot of time while staying in Riga. It takes around half an hour to get there by train from Riga Central Station. Besides you can opt for a different station to get out in Jurmala. Some of them are more touristic (Majori and Dzintari), some more popular among locals (Bulduri). In others, you will need more time to walk to the sea and back, but they are more tranquil.
Despite being in the city you will find that beaches in Jurmala are also surrounded by green pine forests. There are very rare buildings right at the sea. Hence even being among plenty of other people you will not feel like being in the city here.
The sand in Jurmala beach is flattened near the water but still soft in the "sun basking zone". Jurmala beach is definitely one of the best places to go on a bike in Latvia. The sand is solid here for many kilometers, so you have plenty of options for a cycling tour.
Jurmala has distinctive classic wooden and lots of modern architecture, nice restaurants and many activities you can do on the beach. Different city festivals held on the beach are also not rare here in the summer. Yet, come here in the winter, and you will feel like in an abandoned town. The frozen Gulf of Riga looks amazing though, and you will have options to go cross-country skiing right on the beach (in case there is snow, of course).
#9: Riga: A capital city with probably the best beaches in Europe
It is nothing extraordinary for the local people from Riga to go to the beaches in Riga city. Daugavgriva and Vakarbulli (Daugavgrīva and Vakarbuļļi) beaches are easily reachable by public transport, and not less attractive than some of the best beaches in Latvia.
Yet, these beaches remain not that popular among the city guests. It is probably because you have to pass not so prestigious districts to get there. Yet, this definitely enriches the experience, which is why I invite to overcome any fears and doubts if you have such.
Daugavgriva and Vakarbulli beaches are both in nature park "Piejūra". This natural area in Riga City is nothing less but amazing. The sandy beaches lay between the two big rivers: Daugava and Lielupe.
You can catch a sun tan here, have a swim, go for a longer or shorter hike plus see some Soviet legacy on your way. It is an amazing experience.
#10: Saulkrasti and Carnikava: Amazing places at the sea just half an hour from Riga
Here we go. We leave Riga now and go to the Eastern coast of the Gulf of Riga. After all the above mentioned it will not be a surprise for you that you will find amazing beaches in Latvia there as well.
The most popular are in Sauklrasti and Carnikava towns. It is also in a short driving distance of some 30 to 45 minutes from Riga. You will find good public beaches here with more tranquil atmosphere than in Jurmala and Riga. Plus, you can get to Carnikava and Saulkrasti towns by train.
Saulkrasti town has nice coastal hiking trails, some good restaurants and plenty of accommodation places to stay.
#11: Rocky Seashore of Vidzeme: A beach in Latvia that almost everyone wants to see
The more you get away from Riga the more tranquillity you get in Latvia. And you do not have to get that far.
Tuja (or Tūja in Latvian) village with its secluded beach is the next good place to go on the eastern coast of the Gulf of Riga. It is some 30 km/19 miles North from Saulkrasti.
Go further and you will also find the famous Veczemju Cliffs some 15 km/9 miles North from Tuja village.
All this coastal region is so-called Rocky Seashore of Vidzeme. It is a great and beautiful place for hiking, relaxing on the beach and spending tranquil beach holidays.
Rocky seashore is not only rocky though. In some places, it is indeed covered with large and small stones, and pebbles. While some sections are the white-sand beach. Be careful when you enter the water as the stones are also in the water here.
Rocky Seashore of Vidzeme is a beautiful and very diverse coastline worth visiting.
The best way to get here is a car. You can find many guesthouses and campsites in Tuja village.
#12: Salacgrīva: Looking for a big party on the beach? Here is the place
Salacgrīva beach is popular because of some other reasons than the ones mentioned above. The sand is not that silky here and there are a lot of small pebbles in it. The stones are also in the water. Hence it is not that comfortable to swim here too. Yet the place has a small port for yachts in the guesthouse "Kapteiņu osta", and the beach near this guesthouse is really wide and open for any visitor.
The Salacgrīva beach and coastal area are more popular because the largest annual music festival in Latvia "Positivus" is held during one weekend every July. It attracts around 20,000 people daily for three days in a row.
Conclusions
No matter which beach you choose to go to Latvia they are all gorgeous and you will not be disappointed. You will mostly find pristine nature and tranquility here. This is why the beaches in Latvia are definitely among the best beaches in Europe. Beaches in Latvia are great and far less crowded alternative places to have beach holidays in Europe. You can also get some unforgettable outdoors' experiences and adventures here.
What do you think about beaches in Latvia? Would you visit some? Get in touch with me at rolands@escaperies.com to get some advice or book some memorable experiences in Latvia with "i-DĀ" Adventures.