Everyone who's reading my blog posts from time to time may have noticed that I focus on the nature of Latvia very much. Why? Well, first, I love nature and it is easy to focus on something you love. Nature has been the love of my life since I remember myself. And not only the nature of Latvia.
It's not very surprising that I decided to become a biologist. Funny that during my studies I rarely met any study mate, who was as green as I was.
I have even a hypothesis that being a Riga City boy I probably value wild nature much more than those my friends coming from the countryside. They've had probably enough greenery during their childhood. Just my guess.
Whatever is the reason for me being so green I am more than 100% sure nature of Latvia won't disappoint anyone who is of a similar mindset as I am and probably even some of those who aren't. After all, if my passion for nature can convince someone to appreciate more greenery around us, we all will be the winners.
Here are the reasons I love nature of Latvia so much and I'm pretty sure you'll love it too.
Why Nature of Latvia Is Actually the First and Main Reason To Come Here?
Latvia might not be a standard ecotourism destination that first comes to your mind. You might know something about our famous capital city Riga but probably not much more. Well, many of my guests refer to their friends, who were first surprised about their decision to visit Latvia.
It is true that Latvia is still somewhat off-the-beaten-path and under the radar destination for most of the travelers. Yet, once you come here you may guess, why you did not know about Latvia earlier.
Being by one third bigger than the Netherlands and Switzerland and twice bigger than Belgium Latvia has only 1.9 million people. This naturally makes plenty of room for nature. Nature of Latvia is still pristine and relatively untouched, making Latvia a perfect ecotourism destination in Northern Europe.
Visit Latvia and you'll have a chance to see many nature values that had been lost in other parts of modern Europe decades ago. Today Latvia is one of the greenest countries in Europe.
Natural Habitats
Latvia is the home for many protected habitats of European Union (EU) and also international importance. For those looking for the full list, you can find it here.
#1: Baltic Sea & Stunning Sandy Beaches – Probably The Main Reason To Come
Latvia has for sure among the most stunning Nordic coastlines in the world. The beaches in Latvia are some of the best beaches in Europe. The Latvian Baltic Sea coast is more than 500 km (300 miles) long. It is largely secluded but at the same time mostly public and easily available for everyone.
Get to know more about the new long-distance coastal hiking trail in Latvia and Estonia called "Jūrtaka" or choose from any of the great shorter coastal hiking routes to enjoy Latvian beaches and pristine coastal nature at its utmost.
Boreal Baltic sandy beaches and different types of coastal dunes are the habitats of EU importance, many of them being well-preserved in Latvia.
#2: Dense Forests – Not Just The Source Of Timber
Latvia is the land of forests. Forests cover more than 50% of its territory, which is well above Europe's average of 33%. Not surprisingly many goods, houses, etc. are made of wood here.
Dominating trees are pine, spruce, birch, and alder. There are coniferous, deciduous and lots of mixed forests. You'll also see threes like oak, ash, elm, hazel, linden, maple, willow and other species typical and not that typical for Northern and Central Europe.
Latvian broad-leaved forests become especially beautiful during the fall. Gorgeous Gauja National Park is a popular destination during this season. Locals, especially from Riga, are heading to Sigulda town during the autumn's weekends to admire the colors of changing seasons there. So you better choose working days to visit this place unless you enjoy crowds and lots of traffic.
Coniferous western taiga forests and different types of the rare natural old broad-leaved boreal and mixed forests are all big values that represent the greenery and nature of Latvia.
#3: Bogs, Fens & Mires – Places Of Pristine Nature
Natural bog-lands of Latvia are something not to miss when discovering the nature of Latvia. Many of these bogs and mires are truly wild and pristine. We still have unique bog habitats that had mostly disappeared in Western Europe. Such are active raised bogs, calcareous and alkaline fens, transition mires and more.
Some of the most amazing well-preserved raised bogs are very close to Riga. The most popular is the Great Kemeri Bog in Kemeri National Park and Cena Mire. You don't need any special footwear to walk in these places, as there are wooden boardwalks set-up for visitors.
Good choices for visiting are also more distant Suda Mire in Gauja National Park, Teirumnīku Mire in eastern Latvia (Latgale), Vasenieku Mire in western Latvia (Kurzeme) or even the wild bog-lands of Slitere National Park and Ziemeļu Mire on Latvian/Estonian border.
#4: Lakes & Rivers – Your Endless Options For Kayaking/Canoeing Trips
The nature of Latvia is rich with freshwater. We are among the leaders of freshwater resources in Europe. Around 12,000 rivers and 3,000 lakes of different sizes are what makes Latvia so watery. Eastern region of Latvia – Latgale is even called the "Land of Blue Lakes", and this is not without a reason. It's rich with beautiful lakes.
There are seven protected freshwater habitats of EU importance in Latvia. The best way to enjoy Latvian rivers and lakes is to go for a kayaking or canoeing trip.
The most popular rivers for boating in Latvia are Gauja, Salaca, Abava, and Irbe. Check out for more details about the best kayaking trips in Latvia here.
#5: Grasslands – Important Part Of Latvian Traditions
For those looking for some open space, Latvian grasslands might be an attraction. There are ten protected grassland habitats of EU importance in Latvia. Although not always that well-preserved natural meadows are an important part of Latvian rural landscape.
Baltic tribes arrived in this region some 2000 years B.C. They brought many changes here, including agricultural traditions and open lands in the otherwise naturally forested places. Since then, pastures and meadows had gradually become an integral part Latvian rural landscape. Lots of them ceased to exist though during Soviet occupation when traditional agriculture practices were largely abandoned.
Natural meadows are an important part of Latvian traditions. Even in this modern world Latvians collect plants that grow in meadows for health and beauty treatment purposes (as well as wild berries and mushrooms in the forests and bog-lands for homemade food). Visit Latvia during the Summer solstice time (from 20 to 24 June) and you'll see the importance of nature and greenery in our culture at its utmost.
For grassland habitats to be well maintained they must be managed. Today many EU and local initiatives support mowing and grazing of natural meadow habitats to increase and keep their biodiversity. Natural meadows are home for many insect species, rare plants, and birds' species.
If you want to see grassland management in action you may wish to visit the sites like nature parks "Pape Lake" and "Lake Engure" or Lielupe River Floodplain in Jelgava City. You'll see amazing natural wetlands and semi-wild "grazing machines" – hairy highlander cows and konik horses – doing their grazing job there.
#6: Rocky Habitats & Caves
There are no mountains in Latvia. Yet, we have rocky habitats and caves here. These are very rare but "must" places to see in Latvia found mostly on the slopes of river valleys and on the vegetated sea cliffs of the Baltic Sea coast.
These are all generally "soft" limestone and sandstone formations, hence being very fragile ecosystems.
In some places, these are truly impressive monuments of Latvian nature. Gauja River Valley is the most famous place to go in Latvia with rocky riverbank slopes that are around 350 million years old. The best way to enjoy them is by kayaking or canoeing on this river.
In many places, it is also a great idea to go for a hiking trip in Gauja National Park.
Salaca river is another great boating destination to see this rare wonder of Latvia.
Not least impressive are the sandy cliffs on the western coast of the open Baltic Sea close to Jurkalne village. This is also a great place for coastal hiking and enjoying secluded beaches in Latvia.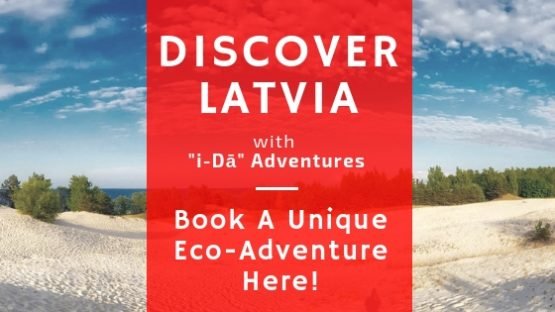 Birds & other animals
Birds to see
During the spring and autumn migration periods (April-May and September-October) Latvia is a paradise for birdwatchers. The spring and autumn bird migration routes go across the country. In the autumn, birds travel from Scandinavia and northern Russia across Latvia to Southern Europe and Africa. Then they come back in the spring.
There are lots of shallow lagoon lakes along the Baltic Sea coast. The biggest ones are Engure, Kanieris, Pape, Babite and Liepaja lakes. We also have plenty of forests and flood-lands. This all makes Latvia a great dwelling place for many migratory bird species.
In case you are a keen bird-watcher you should not miss Kolka Cape, where the open Baltic Sea and the Gulf of Riga meet. Also, you might wish to check out Lubana Lake Wetland complex in the Eastern Latvia (Latgale). Lake Lubans is also the biggest lake in Latvia.
There are altogether 365 recorded bird species in Latvia. One species for each day of a short year, if I may say so. Woodpeckers and owls in the forests, ducks, seagulls and swans in the coastal area, Bittern in the reedbeds, Lesser Spotted Eagle in open places, Osprey and cranes in bog-lands, Corncrake in grasslands. These are just some samples of our feathered heroes.
There are also lots of bird watching towers set up at the best bird watching spots. Thus bird-watching is for sure one of the best things to do in Latvia. Ask locals to arrange a great bird-watching trip for you.
Some bigger animals
The nature of Latvia has also some bigger animals to offer. Some of the species are not that common in other parts of Europe. You can spot wolves, lynx, elks, deer, wild boars, lot of beavers, badgers, otters and even some bears here. You must be very lucky to see most of these wild animals in nature though because they are all very cautious. There is still an option to see them on a special nature trail in Ligatne, if you wish.
Protected Areas – Best Places To Visit
There are 4 national parks, 42 nature parks, and 261 nature reserves in Latvia. We also have 4 strict nature reserves (not accessible to visitors), around 355 nature monuments, 7 protected marine areas, and the North Vidzeme Biosphere Reserve. There are lots of small protected areas called micro-reserves too. All these areas are set-up for the protection of species, natural habitats, and traditional landscapes. Many of them are great eco-tourism spots.
Here is a great movie about protected areas of Latvia. Enjoy!
Most of the protected areas in Latvia are also the areas of European Union importance, which means that most of them are so-called Natura2000 network sites. The best and most diverse places to visit for those who want to explore nature in Latvia are the four national parks and North Vidzeme Biosphere Reserve. Yet, there are also many other great smaller protected nature areas that a nature lover might want to check out.
You can find the full list of all protected territories in Latvia here.
#1: Gauja National Park – The "Must See" In Latvia
Gauja National Park is the oldest national park in Latvia. It is the most beautiful destination that attracts many visitors. You can soak up the beauty of pristine nature here, which is so different in each of the four seasons.
In spring and summer, it is a popular place for kayaking/canoeing in the gorgeous Gauja River Valley. In the autumn the beautiful broad-leaved forests in Gauja Valley turn into breath-taking yellow and red colors. While in snowy winter it is a great place for skiing. Gauja National Park is a "must see" place if you are interested to see the best of the nature in Latvia.
#2: Slitere National Park – The Wildest Place To Go
Slitere National Park is the wildest national park in Latvia. It is in the northwest part of the country and includes Kolka Cape – the place where the "two seas" meet: the open Baltic Sea to the West and the Gulf of Riga to the East. Earlier it used to be a strict nature reserve with a very limited public access. Today it is a national park open for visitors. In some parts, public access is restricted though to protect its natural values.
Slitere National Park is rich with pristine forests, untouched bog lands, and amazing sandy beaches.
#3: Kemeri National Park – The Place Of Magic Bog-lands
Kemeri National Park is the closest national park to Riga. This makes it also the most visited one. The most attractive parts for visitors are Great Kemeri Bog with its boardwalk. Lake Kaņieris is a perfect spot for bird watching and angling. The park is also famous for its sulfur springs.
#4: Razna National Park – The Gem Of Eastern Latvia
Razna National Park is the youngest of all national parks in Latvia. It is in the eastern part of the country called Latgale. The park itself is named after a big Lake Rāzna, which is sometimes called the "Sea of Latgale". Razna National Park has lakes and forests and the unique diversity of nature.
#5: North Vidzeme Biosphere Reserve
North Vidzeme Biosphere Reserve is the biggest protected area in Latvia. As the name itself suggests the reserve is in the northern part of Vidzeme (central) region of Latvia.
The reserve is a protected area of international importance recognized by UNESCO. The area includes lots of natural and cultural values and many smaller protected areas. You can enjoy the gorgeous Rocky Seashore of Vidzeme. Or you can also head to any of the remote and pristine bog-land areas near the Estonian border.
The beautiful rivers of Salaca and Ruja, as well as Burtnieku Lake, are perfect places for kayaking/canoeing.
North Vidzeme Biosphere Reserve is a huge area to explore. Hence the motivation to visit Latvia again.
#6: Nature Parks
The most prominent protected areas mentioned above are not the only ones worth looking at when you visit Latvia. There are also smaller nature areas that you might be interested in. Such are:
"Lake Pape" Nature Park
The nature park of Lake Pape is the area in the very southwest part of Latvia. Lake Pape is a shallow lagoon lake. It is a perfect place for bird watching during the migration periods in the spring and summer. Pape is a remote place. Plan a visit there if you go to Liepaja City.
Nature Park "Bernati"
Nature Park "Bernati" is another great place near the Baltic Sea. It is only halfway between Liepaja city and Lake Pape. The beach is gorgeous here. Yet be careful while swimming in the sea! There are cunning rip currents in this area.
Nature Park "Piejura"
"Piejūra" means "at the sea" in Latvian. The name itself suggests that the park lays at the seacoast. If you come to Riga City or Carnikava and Saulkrasti towns, this is by far the closest natural area you can visit. Yet don't let its location to fool you. You'll find gorgeous beaches, sandy and grey dunes as well as amazing coastal pine forests here.
The nature in Latvia is abundantly present even in the big cities and towns.
"Lake Engure" Nature Park
Lake Engure is about 70 km/44 miles to the northwest from Riga. It is a shallow lagoon lake, hence being a paradise for migrating birds and a good place for bird watchers. It is much closer to Riga than the similar Lake Pape. The lake is close to the Gulf of Riga. Thus you can combine bird watching on the lake with a relaxed afternoon on a beach.
Abava Valley Nature Park
Abava Valley Nature Park is an amazing destination for a kayaking or canoeing trip. It has impressive landscapes, cozy old towns on their banks and natural diversity. Depending on which section of this river you plan to conquer you will get one or all these values combined.
Nature Park "Daugavas loki" (Meanders of Daugava)
Nature Park "Daugavas loki" (Meanders of Daugava) is a scenic area in the very south-east part of Latvia. It is famous for its pronounced natural meanders of the biggest river of Latvia – Daugava. This is also the UNESCO heritage site. You will see totally different Daugava compared to the same river in Riga.
"Daugavas loki" is a beautiful place for kayaking and canoeing. You will witness amazing off-the-beaten-path nature spots here. The water tourism is not that well-developed on Daugava as it is on other popular rivers in Latvia. Hence you can ask a professional local adventure travel company to arrange your trip when visiting Latvia.
Lubana Wetland Complex – Birds' Paradise
Lubans is the biggest lake in Latvia. The unique lake and the area around it are a wetland of international importance (a RAMSAR site). Lake Lubans is another great place for bird watching in Latvia. There are six bird watching towers available for this activity.
The area is the home for many protected species and habitats. You can also buy local fish and rent a boat here.
Summing-Up
It is common and natural that people first travel to the capital city of any less known destination. Therefore, Riga is probably more popular than Latvia itself. This is so far. Yet, once you get the first insights you want to know more, right? It is time to dig deeper. At this point let me introduce the real Latvia that starts outside Riga and consists mostly of nature.
Nature is one of the main reasons to visit Latvia. Amazing sandy and secluded beaches, vast forests, pristine bog-lands, the abundance of rivers and lakes and natural meadows are the main treasures worth coming for to Latvia. If ecotourism is what speaks to you, the diverse nature of Latvia and plenty of national and nature parks won't let you be disappointed.
Now you know why I am so in love with the nature of Latvia, and it is likely that you will be too.