Regardless if you are an outdoor enthusiast, hiking addict or simply a casual nature lover and adventure seeker, hiking in Latvia is what you should consider when traveling to Northern Europe.
There are many hiking trails to choose from in Europe. Yet there are not many places left in the Old World, where nature has kept lots of its original pristine beauty. Latvia is one of them.
Hiking in Latvia is mostly a soft adventure unless you make it a thrill. That said you can choose to do it at your own pace. You can go 10, 20, 30 km a day or more. It's all up to you.
Here are 5 big reasons why hiking in Latvia will be an ultimate experience for every nature lover.
#1: Latvia Is Green
Latvia is the second greenest country in EU in 2019 and mostly because of its vast forests, abundant freshwater resources and leading position in renewable energy ratio.
More than 50% of Latvia are forests. There are more than 12,000 rivers and 3,000 lakes here. Our wetlands (bogs) are among the most untouched in Europe.
So, why Latvia is actually so green?
First, our culture and traditions are closely related to nature. Since Christianity came pretty late here, Latvians are still a bit pagans "worshiping" nature (in a way). Don't get me wrong, as everywhere in the world we have our dose of environmental problems. Yet, most Latvians are taught to take care of nature since childhood. We simply love trees, greenery and the clean environment around us.
Secondly, the Soviet occupation of 50 years made Latvia even greener (in a way). Before WW2 Latvia was an agricultural country with some 28% of forest coverage only. During the Soviet times, many rural lands were abandoned giving more space for forests again.
Hiking in Latvia will let you immerse yourself in various natural ecosystems that you won't find in other parts of Europe anymore. You choose where you want to go.
#2: Coastal Hiking In Latvia Is Stunning
The stunning coastline of the Baltic Sea and the Gulf of Riga is probably the main reason we get more and more hikers from all around the world.
The new Long-distance hiking trail "Jūrtaka" is an amazing discovery for every hiking lover. Altogether it is more than 1,200 km (746 miles) long and stretches from Latvian/Lithuanian border to the Latvian and Estonian coastline up to Estonian capital Tallinn. It takes around 60 days to complete it all. The good news is that you can split this long-distance hiking trail into 60 around 20 km long day-hikes and choose as many as you like.
Coastal hiking in Latvia is really something you don't want to miss. Sandy beaches, pristine nature, amazing scenery, fresh air, dunes, and lush coastal pine forests are what makes hiking in Latvia so very special. Besides many hiking sections are wild and untouched.
You'll find vast sandy beaches near/in Liepaja City, cozy fishing village atmosphere in Pavilosta, amazing steep sandy coastline in Jurkalne, pure wilderness in Slitere National Park, "two seas" meeting in Cape Kolka and amazing stony beaches in Kaltene Town (western coast of the Gulf of Riga) and Vidzeme Rocky Coastline (eastern coast of the Gulf of Riga).
Coastal hiking in Latvia is a diverse and beautiful adventure. Check out the most beautiful coastal hiking trails to start with.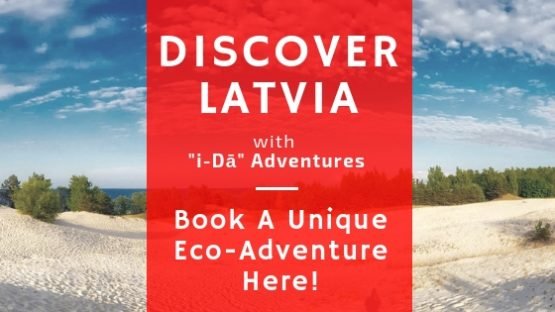 Best time for coastal hiking
You can do coastal hiking in Latvia in any season. Yet, the best time is late spring, summer and early autumn (from May till September), when the weather is warm and the days are long in Latvia.
#3: More Than 50% Of Latvia Are Forests
While coastal hiking in Latvia is the top choice for hiking lovers, our vast forests are not less attractive hiking destination.
As said above Latvia is a very forested country. The coastal woodlands are mostly pine forests. Once you go deeper inland, you'll discover more deciduous trees and mixed forests.
Forest roads are the best hiking trails to follow both in the coastal and inland forests. There are also lots of dedicated forest hiking trails in Latvia. The most popular and accessible ones are in the famous Gauja National Park. You can choose among plenty of forest hiking trails of various distances here. Besides many of them are circle trails. That said you will return to where you started from. This makes them a more convenient choice for those traveling on their own or with the car.
The main hubs to start your inland hiking in Gauja National Park are Sigulda, Ligatne and Cesis towns. You'll find tourist information centers and information boards there explaining where to go and what to see.
For the hikers who are familiar with the hiking routes in Western Europe's woodlands please know that most of the Latvian forests are not anything alike. Most of the forests in Latvia are dense and wild similar to what you can find in Finland, Russia or neighboring Estonia.
Don't Get Lost!
It is almost impossible to get lost on a coastal hike, as you do hiking parallel to the coastline. The things get more complicated if you go hiking inland. It is not that rare that even the local mushroom pickers get lost in the remote Latvian forests. Most of these cases have a lucky ending though. However, please follow the maps or choose dedicated hiking trails, especially if you go in the forest alone. And remember that even the hiking trails are not always that clearly marked in Latvia. Latvians are not the big fans of the road signs. They spoil natural looks of the landscape after all (!)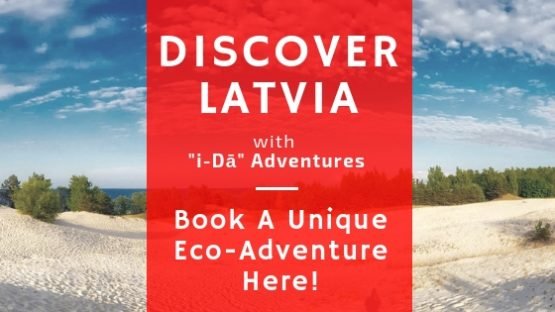 Four National Parks And Other Protected Areas
While Gauja National Park is the most popular inland destination for hiking in Latvia, it's is by no means the only one. You'll find many amazing and off-the-beaten-path destinations in other four national parks, 42 nature parks and in other protected areas. Check out forests of Kemeri National Park near Riga, Razna National Park in Eastern Latvia (Latgale) and coastal and inland hiking trails in the remote Slitere National Park.
Mysterious "Pokaiņi Forest"
There is one very special place for hiking in Latvia worth mentioning on its own. Different anomalies, mystical energy and strange piles of stones (the origin of which is still not clearly known) attracts lots of nature and mystery lovers from Latvia and abroad to "Pokaiņi Forest". Many spiritual healers think that the Pokaini Forest is an ancient holy site. This mystery surrounded woodland is some 80 km south-west from Riga near the small town Dobele and is perfect for a day trip.
Best Time For Hiking In The forests
Best time for hiking in the forests of Latvia is autumn, winter and early spring (from September until the beginning of May). During the summer months (especially end of May and June) the forests are full of mosquitoes. This fact alone makes forest hiking in the summer a challenging task. Hence coastal hiking is a better choice in summer months.
#4: Discover Pristine Latvian Bog-lands
You've not been in Latvia if you've not visited any of its amazing pristine bogs, mires, swamps, wetlands or whatever you choose to call them.
Unique Raised Bogs
To make it clearer the most amazing places to go are so-called raised bogs. By definition, a raised bog is a wet habitat that is poor in mineral salts and is home to flora and fauna that can cope with such extreme conditions. Different species of Sphagnum commonly known as "peat moss" are typical for a raised bog. Peat moss stores lots of water. Raised bog habitats are rare in Europe and the only EU countries you can still see this natural wonder so unspoiled are basically Latvia, Estonia, and Finland. You can see this unique habitat if you go for a hike in bog-land.
Bogs That You Can Visit Near Riga
There is even better news. Some of the amazing well-preserved raised bogs are very close to Riga (some 40 minutes' drive from the center). The most popular is the Great Kemeri Bog in Kemeri National Park and Cena Mire Nature Reserve. You don't need any special boots to walk here as there are special wooden boardwalks set-up in these areas.
The boardwalks in Great Kemeri Bog and Cena Mire are 5 and 6 km long only but you'll see amazing landscapes there. Don't expect a lot of serenity though, especially if you go there on weekends or holidays. These trails are popular both among the locals and guests. Choose going there or working days or early mornings and there is a chance you will enjoy a nice hike there on your own.
Discover Other Pristine Boglands While Hiking In Latvia
If you have time and you are adventurous enough, I suggest you to try hiking in the bogs that are not so close to Riga and hence not so touristic. Good choices are more distant Suda Mire in Gauja National Park (central Latvia), Teirumnīku Mire in eastern Latvia (Latgale), Vasenieku Mire in western Latvia (Kurzeme) or even the wild bog-lands of Slitere National Park and Ziemeļu Mire on Latvian/Estonian border.
Tips For Utmost Experience Seekers In a Latvian Bog
If you are after exploring the raised bog at its utmost, you can go beyond the boardwalk experience. Be ready to get a bit wet.
Hiking in bogs where there are no boardwalks is tricky and you may need some local guidance to avoid getting lost.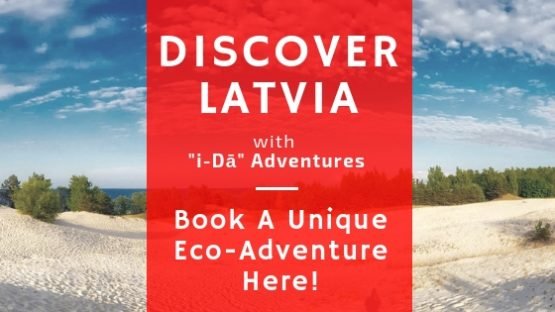 The rubber boots are also "the must equipment" once you decide to walk in a natural bog. No way they give you the 100% guarantee you will stay dry though. In a real bog, the soil is wet and loose. From time to time the bog makes a joke on you and "swallows" your boot (or both). In most cases, you will recover your precious footwear. Yet, your feet will be wet, sometimes along with your whole leg. Hence hiking in a bog for longer distances is a challenging but fun and amazing experience. The difficulties come with a reward though: amazing views, true wilderness and the energy that only pristine nature can give you.
You can also try using so-called "bog shoes". These are in fact ordinary snowshoes used for walking on the wet soil of the bog. They will allow you to reach sites that are otherwise probably not accessible.
Best time for hiking in the bogs
Latvian bogs are great places for hiking in all seasons. Yet, the best time is early autumn to spring (from September till May). You'll see the bogs in different colors each season. The spring is blooming time. The summer is green and warm. The autumn comes with stunning colors of the fall and plenty of cranberries. But snowy winter turns the bog into a white frozen fairy tale.
#5: Hiking In Riga & Jurmala Is Awesome
Guess what? You can start (or end) you hiking in Latvia adventure in Riga and Jurmala cities.
Being very green, Riga is a great place for outdoor activities. The best place for hiking in Riga is Nature Park "Piejura". "Piejūra" means "seaside" in Latvian. Hence the name itself says that it is the coastal area.
Riga is proud with its amazing sandy Vakarbulli and Daugavgriva beaches on the left bank of Daugava River as well as with Mangalsala and Vecaki beach on the right bank of the river. All these places are worth visiting if you like fresh air, soft silky sand, pristine coastal pine forests, and some historic legacy sites.
Jurmala is the biggest resort city in Latvia. Yet apart from hotels, SPAs, and restaurants you can find excellent places for hiking here. Jurmala is also very green.
Daugavgriva
Daugavgriva is a very special place. The area itself is in Riga's district called Bolderaja. It might not be the most prestigious place in the city. Yet you'll find plenty of interesting things here.
First, it's the Riga's port area. During Soviet times, it was also the border area with very restricted access. Hence it keeps many of those old days' witnesses in the form of abandoned ugly concrete houses, remnants of ships, old engines and famous Bolderaja military bunkers that are hidden in the dunes but fully accessible. Nature and human impact have mixed with each other in this wild place.
Second, Daugavgriva is where Daugava River ends its way in the Gulf of Riga. You can have a romantic walk on the Daugavgriva mall. Just be careful when you walk on the mall. If you are lucky, you'll also witness ships leaving Riga or coming back. You can also have a picture with the beautiful Daugavgriva Lighthouse on the background. Just be careful when you walk on the mall. It is slippery and broken in some places. It is not a good idea to walk there in stormy weather.
Standing on the birds' migratory route Daugavgriva with its huge reedbeds and naturally wet areas is also an excellent place for birdwatching. You'll even find a birdwatching tower and convenient wooden boardwalk that will bring you to the sea here.
Last but not least you can visit Daugavgriva Fortress. It is an amazing place keeping history's secrets since 17th century.
You can get to Daugavgriva by bus No 3 from the center of the city.
Vakarbulli beach
Vakarbulli is another great place with an awesome beach, where you can go for hiking in any season, amazing sunsets or just for catching sunrays on a warm summer day. It stands between Daugava and Lielupe rivers. You can combine visit to Daugavgriva and Vakarbulli in one hike of around 10 km going from Daugava to Lielupe river or vice versa.
Or you can hire a local guide who will arrange personal transport and will tell you a lot about this wild place in the big city on your way. This is a great adventure in a wild area that close to the city center.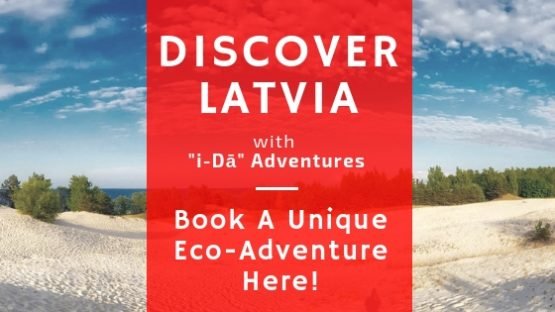 You can get to Vakarbulli again by bus No 3 from the center of the city if you go there on your own.
Mangalsala and Vecaki beach
Mangalsala and Vecaki beach stand on the opposite (right) bank of Daugava River. It is as green as the left bank the river yet a bit different.
The mall in Mangalsala is to say more "civilized" and easier accessible. Also, Vecaki beach is not less popular among local beach lovers than Jumala city. Hence don't expect a great serenity here during the summertime. Yet both places are great for walks in the fresh air and seeing Riga from another perspective.
Jurmala City
As said Jumala city is the biggest resort city in Latvia. It is also a very long one, stretching for around 32 km from the delta of Lielupe River along the Gulf of Riga. Yet, this all does not mean that the city is big in absolute terms. While being the fifth biggest in Latvia, it has only a bit more than 50 thousand inhabitants there.
The flattened sand in Jurmala's beach is great both for hiking and for biking. Besides you can get back to your starting point or to Riga from almost everywhere, as the railway passes the city for all its 32 km and there are many train stations on your way.
Just at the Lielupe River delta, there is an amazing nature park "Ragakapa". It is a green and rather quiet area of pristine pine forest and beautiful beach. Ragakapa is one of the highest dunes in Latvia. You will also find a boardwalk here leading through the pine forest. All in all, it is a great hiking destination that is very close to Riga.
Conclusions
Latvia is an amazing off-the-beaten-path hiking destination. Hiking in Latvia gives you a chance to see its amazing pristine nature and get authentic experiences that you won't get by just staying in touristic areas and doing "ordinary things". Besides, it is a healthy, safe and fun way to explore Latvia. You'll discover amazing secluded beaches, vast forests, pristine boglands and wild places even in big cities like Riga and Jurmala.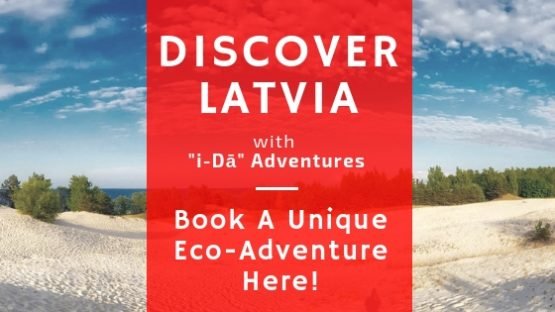 What do you think about hiking in Latvia? Would you try it? Leave a comment below or contact me at rolands@escaperies.com. You can also book amazing hiking in Latvia experiences here.