"You won't surprise anyone at a dinner party with a story about how you went to Paris. A trip to Riga will make you the most interesting person at the table". Although stated with a good dose of humor, this Instagram post that I saw a couple of days ago is pretty much true. Latvia and the other Baltic States are becoming more and more recognizable as unique travel and ecotourism destinations on the map of Northern Europe. Hence, you might be interested in the best places to visit in Latvia on your own or by taking to amazing and convenient adventure tours from Riga.
You may have heard about Latvia's iconic capital city Riga, which is the biggest metropolis in the Baltic States and the world's capital city of Art Nouveau architecture style. The Telegraph goes further and reveals 25 amazing things you probably didn't know about Latvia. It is a great introductory article about Latvia. Yet Latvia's greatest hidden treasures actually are amazing pristine nature, tranquility, unique traditions and, you might not believe it gorgeous wide sandy beaches.
Here are the 11 most beautiful places to visit in Latvia from a local's perspective. Find out why Latvia is actually a paradise for eco-tourism and nature lovers. No time to read it all? Skip to the Summary section at the end of this post and read more about the places you are interested in.
#1: Riga: The Gorgeous Metropolis At The Baltic Sea
Riga has been by far the most popular destination in Latvia. It is obvious if try Google places to visit in Latvia. It is not without a reason though. Riga is a gorgeous city in the very center of the Baltic States.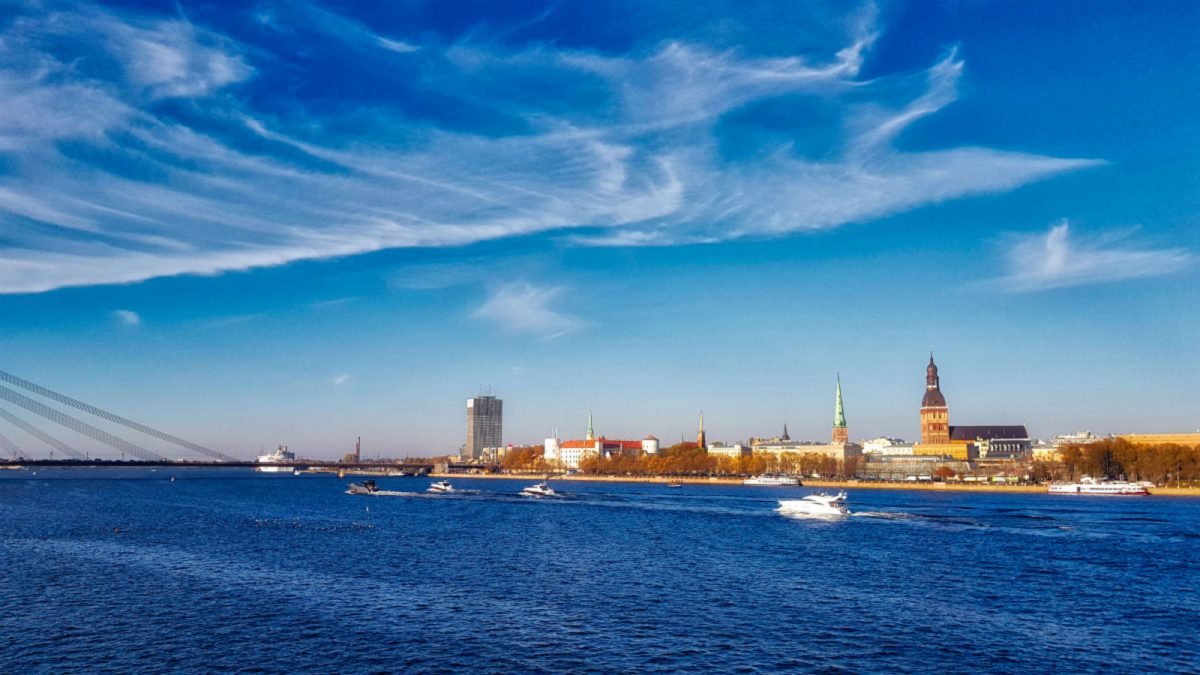 The Latvian capital is more than 800 years old. It has a rich history and amazing architecture. Riga has a cozy old town (UNESCO heritage site), new and interesting hipster districts as well as green and vast recreation areas. There is something special about Riga says National Geographic and lists a bunch of great things to do here. You will get a great combination of good old and modern (but different) Northern Europe here. Honestly, there are very few people who leave Riga without a strong desire to return. This is the reason why Riga now tops the best places to visit in Latvia in almost every blog post you can find on the Web.
One-third of the Latvian population lives and/or works in Riga. We like to joke that Riga is a country within a country, and every joke has a grain of truth.
The hustle about Riga is so big that not many of our visitors know that the real Latvia actually starts outside Riga. Therefore, I highly recommend you to combine your trip to Riga with other great places to visit in Latvia. You will be stunned, especially if you enjoy nature.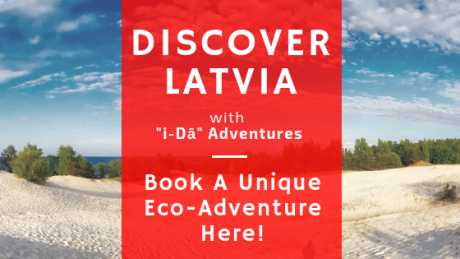 #2: Gauja National Park: Discover 200 Million Years Old Landscape
Gauja National Park is the oldest national park in Latvia. It is one of the most beautiful places to visit in Latvia and attracts many local and foreign visitors. It lays in the central part of Latvia called Vidzeme, and you can explore it by taking convenient days trips from Riga.
Gauja National Park will surprise you with stunning views of the amazing 200 million years old Gauja River Valley and a diverse pristine nature. Each of our distinctive four seasons brings different colors to this gorgeous scenery. The green summer and spring months are excellent to take great kayaking/canoeing trips in Gauja River and in its wild tributaries. The fall turns Gauja Valley into a beautiful yellow-red painting.
Gauja National Park is also one of the best places to visit in Latvia if you love or want to try cross-country and even mountain skiing in a snowy winter (yes, we have some hills for this too). Apart from all this, Gauja National Park offers great walks and hiking on the forest trails. After all, forests cover more than 50 percent of the territory of Latvia is covered with forests. Hence, immersing yourself in this greenery is a must considering places to visit in Latvia.
Gauja National Park is not only nature though. You will find small cozy towns Sigulda, Krimulda, Turaida, Ligatne, and Ungurmuiza all holding historical secrets you wouldn't want to miss. Depending on how much time you have all these towns are worth considering as places to visit in Latvia. Last but not least Cesis is a beautiful city worth visiting in the very heart of Gauja National Park. It is almost as old as Riga and Latvian cultural center these days.
#3: Baltic Sea Coast: Stunning Sandy Beaches Are The "Must" Places To Visit In Latvia
It is hard to believe before you actually see it, but Latvia is a paradise for those who love secluded sandy beaches and the sea. Beaches in Latvia are definitely among the best places to visit in Latvia if you are a nature lover. Latvia's more than 500 km/300 miles long coastline of the Baltic Sea and the Gulf of Riga hides real treasures of pristine nature. Find out which are the 12 best beaches in Latvia to visit. These are among the best beaches in Europe for sure.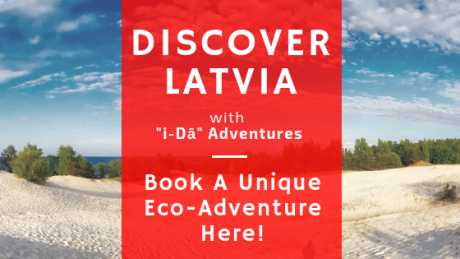 Wild Western Coast
Go to Western Latvia (the region called Kurzeme) to enjoy the wildest sea cost and the less disturbed sandy beaches. Visit gorgeous steep sandy coast in Jurkalne village (see #9), chill out in the cozy Pavilosta fishermen village or go to Kolka Cape, where "two seas" meet (see #8). These are all great options for the places to visit in Latvia.
Amazing Beaches Just Half An Hour From The City Center
Alternatively, you can take just a half an hour ride by car or train from the center of Riga to the beautiful beaches. Some of them are very close like the beaches of Jurmala city, Saulkrasti town, and some closest fishing villages. Also Riga has beaches of its own any other European and most non-European cities could only dream about.
Great For Both: Relaxing Holidays & Outdoors' Adventures
Beaches in Latvia are amazing, both for relaxing holidays away from crowds and for those, who love coastal hiking, longer or shorter walks and activities on water (yes, you can also swim in the Baltic Sea). Some of the best coastal hiking trails in Latvia will blow your mind. These hiking destinations are among the best coastal hiking destinations in Europe.
The coast of the open Baltic Sea and/or the Gulf of Riga are among the greatest places to visit in Latvia and in Northern Europe whatever your other travel plans in this region are. It will surprise you with its diversity and tranquility
#4: Eastern Latvia (Latgale): The Magic Of "The Land Of Blue Lakes"
Not a fan of the sea or looking for even more diversity and tranquillity? Well then, Latvia's eastern part called Latgale could be the right place for you. We call it the "land of blue lakes". Latgale is a region with many beautiful lakes, scarce population and unique culture and language.
Regardless if you enjoy deep relaxation at any of the beautiful lakes, unspoiled nature, true hospitality, wildlife spotting or active kayaking in secluded lakes and rivers, Latgale is a place to go in Latvia. Check out some of the top kayaking/canoeing trips in Latgale and in other destinations in Latvia. They might very well fit on your planned trip.
One of the places to visit in Latvia is Razna National Park in Latgale. The park embraces the amazing Razna Lake. Because of its big size, locals also name it the "Sea of Latgale". Go to Makonkalns viewpoint, and you will discover stunning views of the national park from above.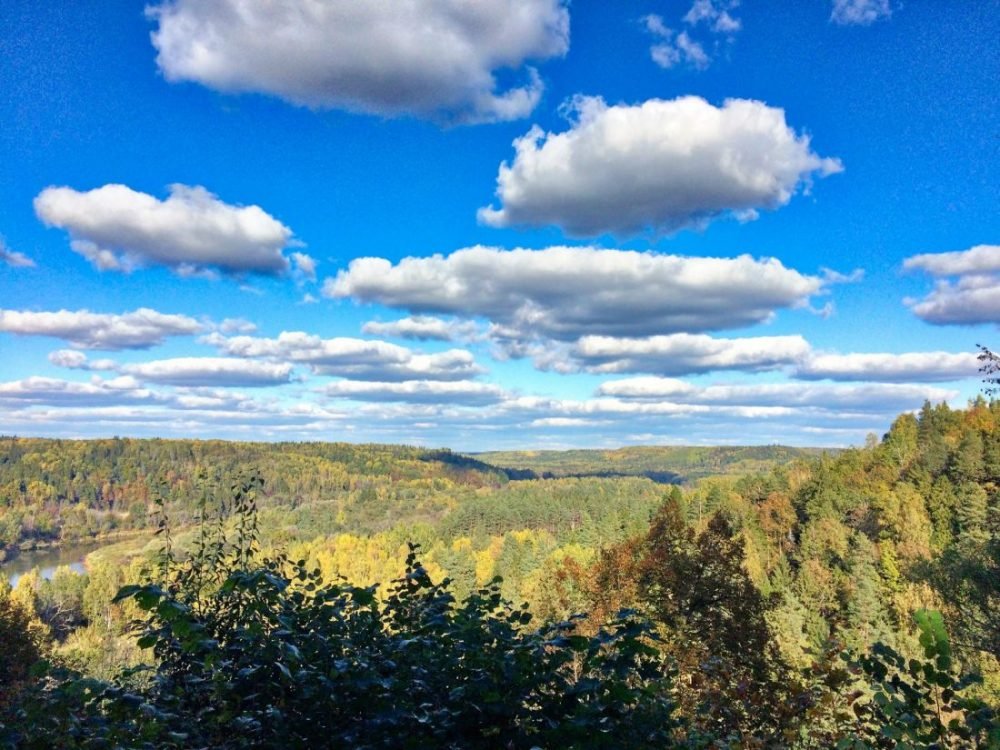 Yet, Latgale region is also not just all about nature. Add a visit to the unique Mark Rothko Art Centre in Daugavpils City, don't miss the magnificent Basilica of the Assumption in Aglona and have a taste of Latgalian food. You will have amazing new experiences here while staying on the road less traveled.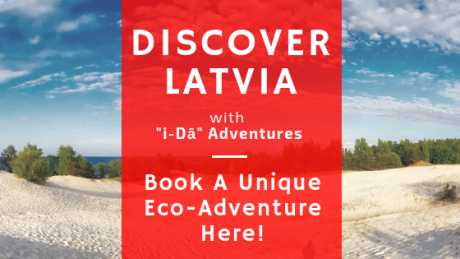 #5: Daugava: The River Of Destiny
Daugava is the biggest river in Latvia. Latvians call it the river of destiny. Its beautiful meanders remind about many changes in the history of Latvia and in our lives.
Nature park "Daugavas loki" (Meanders of Daugava River) is a gorgeous place to visit in Latvia. It attracts travelers looking for magnificent natural scenery. Visiting the amazing viewpoints on the river's bank is a perfect way to enjoy nature and Latvian countryside. Kayaking or canoeing here or just driving along the riverbank is a memorable experience.
Do you want positive changes in your life? You don't have to stick to symbols only. Try the unique Latvian Sauna Ritual while in Latvia and, who knows, you may fully transform your life, and it could happen in a place you never expected.
#6: Kemeri National Park: Unique Pristine Wetlands Not Far From Riga
Kemeri National Park is one of the best-known protected nature areas in Latvia. It is mostly because of its unique vast bog-lands, and probably also because it is so close to Riga. Indeed, it is one of the most beautiful places to visit in Latvia. Kemeri National Park is just 40 minutes ride from Riga. Yet, it provides amazing diverse scenery, including Great Kemeri Bog, Lake Kanieris, diverse forests, and beautiful beaches.
The Great Kemeri Bog attracts most of the visitors because it is easily accessible and unique. Once you get to the bog, it is like being in another world. Walking in the pristine bog gives you an experience that you will not find anywhere in Western Europe today. The unique habitats are very well-preserved here. It will take you back in time since You will see how nature in Europe looked like a long time ago. The color of the Sphagnum moss carpet varies from bright green, to dark brown and red, being especially impressive during the sunny days of autumn.
And guess what? This is not the only pristine wetland in Latvia. We have a lot more to show you.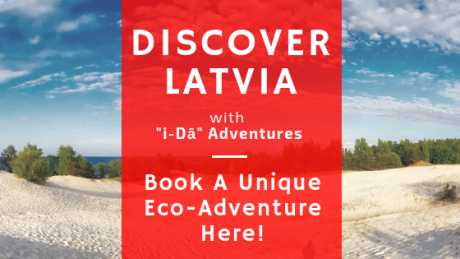 You might also wish to visit the beaches in or close to the fishing villages of Lapmezciems, Ragaciems, and Klapkalnciems on the western coast of the Gulf of Riga! On a sunny summer day, these places will make you forget that you are in Northern Europe.
#7: Liepaja: The City Where "The Wind Is Born"
Liepaja is the third biggest city in Latvia worth special attention. It is in the far south-west coast of Latvia, and it takes some three hours to get there from Riga by car (alternatively you can take an inland flight or train to go there).
Liepaja is one of the places to visit in Latvia if you have more time than just a couple of days in or near Riga. We call it the city, where "the wind is born". It has one of the widest and most beautiful beaches in Latvia with the white sand that feels like silk on your skin. If the weather becomes too windy here, you can hide in the dunes. This is the luxury you will not find everywhere.
Liepaja is a cozy city with predominately wooden houses in its historical center. The city, as well as the beach, are never too crowded (except the one summer weekend usually in July, when the music festival Summer Sound is held right on the beach).
Need some more tranquility? Just 10 – 20 minutes to the south of the city, you will find pure wilderness: Nature Reserve "Bernati". It has a gorgeous beach and many cozy places to stay. Just be sure to book in advance.
#8: Slitere National Park: Find The Real Wilderness Where The "Two Seas Meet"
Slitere National Park is the wildest of all national parks in Latvia. You will find this amazing national park in the north-west of Latvia with the famous Kolka Cape being the peak attraction for visitors. It takes about two hours to get there from Riga. Yet, it is worth it. You will find wild Latvian nature at its purest here: ancient pristine forests, superb secluded beaches, and tranquillity.
The area was not accessible during the Soviet times as it was the Western border of the Red Empire. Hence, in those days it was "hidden" behind the label of being a strict nature reserve with a very limited public access.
Today, it is a national park open to visitors and one of the most amazing places to visit in Latvia. In some parts, access is still restricted to protect the unique natural values of European importance.
The area is also the cultural center for one of the smallest nations in the World – Livonians. There are only 250 Livonians left in Latvia and in the world today. You will find scarcely populated fishing villages with information signs both in the Latvian and Livonian languages in Slītere National Park. These all are former Livonian settlements.
Slitere National Park is a distant area. Yet, you can always book an amazing adventure to this wild area to this wild area there with a professional local guide.
#9: Jurkalne: Discover The Most Beautiful Steep Coast Of The Baltic Sea
Jurkalne's Steep Coast is worth mentioning on its own. It is spectacular. Jurkalne is at least two and a half hours drive from Riga. Yet, it is definitely worth both going there or stopping by if you are traveling along the western sea-coast of Latvia.
Jurkalne is a very small village. There are only some guesthouses to stay there. However, you can easily find accommodation in Ventspils port city to the North or in the amazing Pavilosta fishing village to the South from Jurkalne. Both are about half an hour drive from Jurkalne and great places to stay with splendid sandy beaches at the Baltic Sea.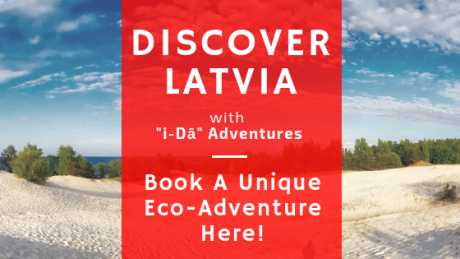 #10: Cozy Small Towns Of Western Latvia (Kurzeme)
The western part of Latvia, called Kurzeme, once used to be an independent rich Duchy of Courland and Semigallia. It even owned two colonies for a while: Tobago and Gambia.
The small towns of Kurzeme are beautiful and tranquil places to visit in Latvia on your way from Riga to the west coast or just by making a round trip there.
Kuldiga is sometimes called the pearl of Kurzeme. It is an ancient town with unique, distinctive architecture. Today, it is most popular for the widest natural rapid in Europe – Venta River Rapid. It is 240 meters wide. Visit Kuldiga in May and you will see vimba fish jumping out of the water on their way to the spawning places. It is awesome!
Talsi is a beautiful town "on seven hills". It is a nice place to stay overnight while traveling in western Latvia.
Kandava is a town with a rich historical legacy. It is some 100 km/62 miles from Riga, being also a popular starting point for those going on amazing kayaking trips in Abava River Valley.
Sabile is another cozy small-town laying on the bank of the beautiful Abava River. Its Wine Hill is the northernmost vineyard in the world.
#11: Rundale Palace
A more classic, yet one of the most stunning places to visit in Latvia is Rundale Palace. It is a Baroque-style palace that is around 80 km/50 miles south of Riga. The Italian architect Franchesco Bartolomeo Rastrelli designed this wonder. He was also the author of the famous Winter Palace in Saint Petersburg. Rundale Palace was built at the beginning of the 18th century. The palace has a spectacular interior and a beautiful park. There are many day tours organized to Rundale, but you can also go there on your own by car.
Summary
All the above-mentioned destinations are amazing places to visit in Latvia. You choices very much depend on the time you have for traveling in Latvia. I definitely suggest staying longer than just a couple of days so you can see at least some of these wonders.
Here you have the summary of all the most beautiful places to visit in Latvia:
Riga
You can both start or end your trip with our gorgeous capital city Riga. It is more than 800 years old regional center with rich historical and cultural legacy.
Baltic Sea coast
Choose the coastal area of the Baltic Sea and/or The Gulf of Riga if you enjoy pristine and secluded sandy beaches. You can relax and get a good suntan here in the sunny summer days or go to amazing hikes along the secluded sea-coast.
Latgale
Go to Eastern Latvia (Latgale), if you prefer lots of beautiful lakes and spending some time in tranquility.
Gauja National Park
Visit Gauja National Park, if you want to see the most famous national park, gorgeous landscapes, pristine nature, and historical Cesis Town. Numerous hiking trails and great kayaking/canoeing options also make this Gauja National Park ideal for outdoors activities' lovers.
Kemeri National Park
Come to see Kemeri National Park not far from Riga, if you want to see pristine bogland and other natural habitats that you will not find anywhere in Western Europe. Kemeri National Park is also close to Riga and hence ideal for short half day trips.
Liepaja
Choose Liepaja to see the most charming Latvian city at the Baltic Sea with a wide sandy beach in a walking distance from almost any place in the city.
Slitere National Park
Go to Slitere National Park to enjoy the real wilderness, endless forests, wild and secluded beaches, authentic fishing villages and the historical legacy of almost extinct small Livonian nation.
Jurkalne's Steep Coast
Traveling to the western Baltic Sea coast of Latvia? The stunning Jurkalne's Steep Coast must be on your stopover list.
Daugava River
Travel along or paddle in the Daugava River to see the amazing landscapes of the biggest river in Latvia.
Kurzeme's small towns
Looking for more tranquil leisure holidays in small cozy towns with rich historical legacy? Kurzeme's small towns Kuldiga, Kandava, Talsi, and Sabile are the places for you then.
Rundale Palace
Rundale Palace is a must visit place for those who are more interested in castles and historical legacy.
Which of these places would you like to visit? Write a comment! Contact me at rolands@escaperies.com to get more information about the best places to visit in Latvia or book your trip directly with "i-Dā" Adventures.