Hiking In Tenerife – An Off-Season Adventure Trip
Why Tenerife?
"I am going for hiking in Tenerife", I said not without a hesitation.  "Tenerife?!" smiled one of my friends not even trying to hide a sarcasm in his voice.
Most of the people associate Tenerife and Canary Islands with mass tourism. Countless not that cheap offers of the big tour operators prove that this is partly true. People who avoid crowds of tourists try to stay away from such places. At least traveling there is not seen a something special these days.
Yet I can say that this is only the surface. Dig deeper and you will see another perspective. You'll find that the Canary Islands is a stunning travel destination. You'll also find out that hiking in Tenerife can actually please even the most spoiled ones of us.
Besides Tenerife is not the only great place for hiking in the Canary Islands. There are others too.  La Palma is considered being a hiking paradise. Thus it is on my bucket list for the next time. Yet, first, we decided to focus on hiking in Tenerife only. Simply because there are plenty of gorgeous places to go for one week stay.
Going To Tenerife Off-Season
Due to its great weather, Tenerife is also called as the place of the eternal spring. Yet I wouldn't risk hiking in Tenerife in the peak of the tourism season. For the summer season, we have our own amazing hiking trails in Latvia.
Canary Islands are really a popular travel destination for Europeans. Thus sometimes it may become very crowded during the holiday season. Besides, summers can be indeed hot there.
Hence hiking in Tenerife during the off-season is not a bad decision at all. The flights and hotels are much cheaper then too. The sun is not burning like a hell and you can sleep during the nights better as the air is very fresh. This is especially true in the mountains, where we stayed.
All these reasons are why we went hiking in Tenerife in November. The weather could not be better for such Nordic people as we Latvians are. During the days it was around 21-25 degrees Celsius (70 – 77 degrees Fahrenheit). It is what we have during an average Latvian summer. Thus what else we could wish for.
Yet the weather changed a bit from day-to-day. During the evenings and nights, we got some fog and rainfalls. Besides, when you are there in the off-season you actually have to watch where the clouds are and be flexible with your plans.
We could not go to the green north-east part of the island until the very last day of our stay. The dark clouds there promised nothing else than pouring rain. While in the central and western part of the island it was sunny and nice. Be flexible and open-minded and you'll enjoy your trip both during the season and off-season.
Rural Charm In Tenerife
Choosing An Authentic Place To Stay
Wherever I go I always look for small authentic local guesthouses or hotels to stay. Preferably family run. It is because these places have their special unique charm.
This time again I found a wonderful place to stay during our "hiking in Tenerife" trip. It was Casa Rural La Gustoza. It is away from the tourist hot-spots. Yet, if you rent a car (what we did), everything is easily reachable in Tenerife.
One thing that I don't like is trying to find a remote place in the middle of nowhere when it's dark outside. It gets even worse when the place is not even on any map. Yet the hosts of this place send us detailed directions, thus making this task much more pleasant. Thus we felt a great personal touch here from the beginning.
Arrival
The last 500 meters on our way to the guesthouse where on an extremely bumpy road uphill. The car light illuminated the dark trees on both sides of the road.
For a moment it seemed that we are going to some place that we won't ever return from. Yet I know this tricky feeling of the first night when you are tired and the only thing you crave for is a bed and shower.
Finally, we reached huge frightening gates made of steel. As it seemed to be the right place we found a ring and pushed the button. "Hola! Este es señor Rolands?" (Hi, is this Rolands?), I got politely addressed by a nice woman's voice after a half-minute or so.
I summarized all my week Spanish and responded: "Sí, hemos llegado!" (Yes, we have arrived!). "Muy bien!", answered the voice and the heavy gate started to open.
Since that moment we entered the place full of rural charm, warmth, and hospitality. The place is actually rebuilt former stables. This is one of those old buildings made of stone that will last forever.
The hosts Victor and Lara are an amazing married couple. They hardly speak English and my Spanish was about at the same level. Yet basic principles of human interaction were good enough to understand each other.
Victor was local. Lara was from Brazil. We could feel the fine touch of this charming Brazilian lady in every corner of the property. The local Tenerife's charm was combined with Brazilian elements. This place was truly a gem. Besides, it had the most comfortable bed that I have ever slept in. Like ever!
#1 Masca Walk Tenerife
We started our adventure of hiking in Tenerife with Masca walk. Probably it is not the best place for a warm-up hike. Yet it was raining in the Eastern part of the Island. Thus we chose the Western part to start with.
A Wrong Way To Masca
Our way to Masca village was not without adventures.
Except for the main motorways, the roads in Tenerife are very curvy mountain serpentine.
It is a fun and pictures adventure to drive on them. Yet at one moment we took a steep road down wide enough only for one car. It was a wrong decision. There was a dead-end with very limited options for making a U-turn.
Even worse there was already another car parked. This made any maneuver almost impossible. Yet I tried. Of course, I got stuck and touched another car. One more move and I would smash the sides of both my rented car the other car that belonged God only knew to whom. "Nice start for hiking in Tenerife!", I thought. "We've not even reached our first hiking destination and I've already got in a car accident. Who knows how much time it will take to sort this out."
Follow The Signs!
For a moment I felt a bit hopeless. However, there were some guys clearing the area from garbage at the same place. They watched my "performances" with a dose of curiosity. Unfortunately, none of them spoke understandable English. The situation became even more confusing when I tried to ask for help.
To my surprise, a couple of these guys were Germans and luckily I know a bit of German. One of them somehow explained that he knows the owner of the car. Then they disappeared and indeed returned with a local Spanish man.
Unfortunately, the man did not have a very welcoming appearance. He was not only the owner of the car but also the owner of this strange property.
After a quick analysis of the situation, I understood that this won't be an easy task. The man did not show any signs of understanding and friendliness. As far as I understood he accused me of damaging his car and breaking into private property.
After many apologies, I somehow convinced him to do some action. If he'd just sit in his car and moved ahead a bit there might not be a damage to our cars at all. Not without a sense of deep pessimism the man finally agreed to try this.
He was very surprised that my plan actually worked out. To be honest I was a bit surprised too. What a relief it was! I jumped in the car and moved away as fast as I could on the super steep and narrow road until I got back on the paved road.
All I can say after this adventure is "Watch out for the signs, guys! Even if you think they are not there!"
Hiking Trail From Masca Village
Finally, we arrived in Masca village.
The hiking trail itself goes down from the village to the Atlantic Ocean.
Once you are down on the beach, there is a speedboat going to Los Gigantes Marina every hour. The first boat leaves at 11:30 a.m., the last one is at 17:30. Be aware that you have to buy the ticket when you are in Masca village. Otherwise, you may have to return all the long way back uphill. I assure you that you won't be excited about such a perspective; especially after some 4 hours walking downhill.
There is nothing more than a dock and a couple of people checking the tickets once you are on the beach. As far as we noticed there are two speedboat companies operating there. So you have some choice at the same price though.
It might be that you are crazy enough to go on more challenging vice-versa hike uphill to Masca village. In this case, you should take the boat from Los Gigantes Marina to Masca beach first.
A Tough "Warm-Up" Hike
The hike starts on the left of the ridge that runs through the center of Masca village.
Rocky terrain is a bit of challenge for the knees but soon the legs get used to it. They say that it is only a 5 km walk. Yet my phone app showed 9 km when we were down on the beach. Besides these are 9 km on rocky terrain. This makes the hike quite challenging even if you're going downhill.
Otherwise, Masca's walk is nothing less than a spectacular experience.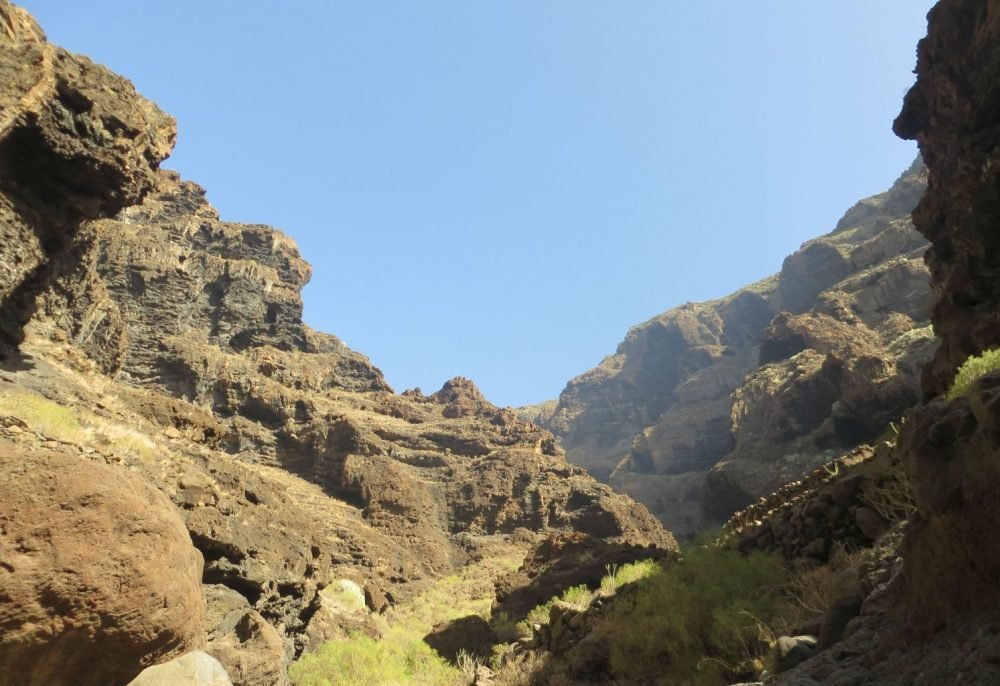 You are descending between the majestic cliffs. Different volcanic formations and shapes on the way are amazing. It is indeed one of the most beautiful places for hiking in Tenerife.
The hike is very nice because most of the way you are protected from the direct sunlight. And the light breeze makes it even better. Yet going up from the beach to Masca village might be a totally different challenge. Anyway, it would not be an easy adventure for the first hiking day for sure.
Speed Boat From Masca To Los Gigantes
After tiring yet fulfilling Masca walk it is amazing to come out in the dark sand of the Atlantic beach. It was filled with warm afternoon sun.
A short half an hour boat ride to Los Gigantes was actually very nice too. The views on the coast and cliffs are beautiful. We even got a cold complimentary beer and something even more special on our way.
Dolphins! Yes, we met a group of Bottle-nose Dolphins that chased the school of trumpet-fish. The water was so clear that we saw the dolphins and the schools of fish as through the glass. Besides the dolphins "greeted" us with jumps out of the water as if they would have been asked to do that (maybe they were!).
Los Gigantes
Los Gigantes is a cozy resort town in the Santiago del Teide municipality on the west coast of Tenerife. Acantilados de Los Gigantes are giant rock formations that rise 500 – 800 meters above the sea level. The coast with cliffs is really impressive here and worth seeing itself.
#2 Tenerife Trekking In Teide National Park
For those of you looking for real Tenerife trekking sites, I recommend Teide National Park. Teide National Park is a UNESCO World Heritage Site and one of the most visited national parks in Europe. Yet do not let this fact fool you. It is not overcrowded site for hiking in Tenerife. Most of the tourists do not go further the viewpoints at the road.
Mount Teide
We did not do trekking to the summit of Mount Teide, which is at 3,718 meters. It's a strenuous exercise. For the hike to the very peak of the volcano, you need a special permit from the National Park. You can apply for it online only. There is a good source of Volcano Teide experience here.
Yet hiking to the Peak of Teide Mount was not a part of our Tenerife trekking plan this time. It is pretty cold up there in November. Add the "thin" air factor at that altitude. My partner was not yet ready for such challenges. So we keep this for the next time.
Mount Guajara Hiking Trail
Hiking in Tenerife gives plenty of alternative options. Surroundings of the Teide Volcano are diverse and impressive. There are different shapes and colors as well as beautiful landscapes everywhere. Hence we chose a couple of gorgeous hiking trails to explore.
We discussed the best options with a guide in the information center El Portillo. She was very knowledgeable and recommended Mount Guajara for an excellent day hike. It is a 5-hour circular walk of some 12 kilometers in challenging terrain. At the end of the day, it was our most spectacular hiking in Tenerife experience.
Mount Guajara hiking trail starts from the parking place at the Hotel Parador. It is near the viewpoint of Roques de Garcia.
You may start with the hiking trail No 5 on the left, which is more flat. Or you can opt for a steeper trail No 15 on the right. In both cases, you will hopefully return at the same point. We chose the trail No 5 and it was a good choice. It was much nicer to go downhill at the end of the hike and not vice versa.
A Real Off-The-Beaten-Path Hike
We were lucky with the weather. It was a sunny day with a nice breeze that made hiking very enjoyable.
We started our hike at the elevation of 2,030 m.  After some 3 hours, we reached the summit of the Mount Guajara, which is at 2,718 m. Up there is a stunning view of Teide Volcano and its surroundings.
The descent on the trail No 15 pleased us with even more beautiful views. The rocky formations changed dramatically on our way.
During our 5 hour hike, we met only some fellow adventurers. Hence we could fully enjoy the serenity of this unique site. This made this hike a truly off-the-beaten-path one.
Due to some steep elevations, I would rank Mount Guajara Hiking Trail as of medium difficulty. It was a fulfilling experience that made hiking in Tenerife very special.
Black Lava Landscapes
We had not yet enough on that day. In the afternoon we headed to another part of the national park. It had different landscapes again.
In the Western part of Teide National Park, there are huge areas of black lava. The only vegetation growing here are Canaries' pines. They are proof that life finds its way even in the harshest environment. The evening sun and bright green pines on the background of lava fields looked like out of this World.
There were other marked hiking trails in this black lava environment welcoming us. Yet it was finally enough for today.
Foggy Way Back Home
Hiking in Tenerife and the views in Teide National Park are so amazing that one forgets that it is time to go home. It gets dark around 7 p.m. in November there. Besides, the weather in the mountains can change without any early warning signs. So it did this time as well.
The darkness and clouds embraced Mount Teide. At that moment we got back to the reality. It is evening out there. Hence we had to go back down on the curvy roads in total darkness and rain.
I've been driving in different environments during harsh weather. Yet this was the most extreme road trip that I had ever had. OK, I've had one before in Greece that was even more dangerous and another one in Bali where I did not drive, but this was different.
Longest Road Trip Home
The darkness and rain were nothing compared to the fog that we went into. The visibility was almost zero. None of the car lighting combinations could improve it. Thus we moved along the steep cliffs in the speed of a turtle.
Navigation took us to some other mountain road through the forest. For a moment or so, we did not know where we are and how far we are from the home. The view outside the car was surreal as well the feeling inside the car.
When your attention and all your senses are on the top for a longer period you start getting very tired soon. But you know that you cannot relax even for a moment on the dark curvy road. The tension was so great that at one moment I started doubting that this is a reality at all. But what is the reality anyway, right?
Hence this was the longest road trip home that I have ever had. I had a feeling that it took hours. The fog disappeared as suddenly as it appeared. I had never felt more relieved than when this happened.
Finally, we reached our hotel and fell into a deep sleep. This had been a day of a real adventure.
Roques de Garcia Hiking Trail
There are many options for hiking in Tenerife. Yet Teide National Park is a top destination, of course. Roques de Garcia hiking trail is one of the best short hiking treks there.
We Won't Hike!
We had extended hikes in the earlier days. Hence we planned to take a day-off. Yet it is not that easy if you are an addict to nature and activities.
For a change, we considered going diving that I also love a lot. Yet we were not lucky with the dive center. Thus we had to give up on these plans at the very last moment.
My partner is not a licensed diver. Thus we decided that it might be a sign that we should skip this activity until she gets the license.
And guess what! We went to Teide National Park again. "No, we won't hike today!", we said to each other. Driving around and enjoying the stunning scenery was our plan.
We lied to ourselves. As soon as we got to the beautiful area of Roques de Garcia we knew we want to go there. This is a short hiking trail that starts near the same Hotel Parador. It is just on the opposite side of the road. It is around 5 kilometers long and takes some 2-3 hours.
Different Teide National Park
The landscape of volcanic lava formations was different again in Roques de Garcia. Nature proudly showed us another way how she can excel in making different shapes out of the rock.
Roques de Garcia hiking trail is a circular trail marked as No 3 in Teide National Park. Taking the "traditional route" on the right looked more inviting at first glance. The path is smooth and flat there. Yet it fools you.
We chose to go vice versa. This includes a steep descent at the beginning and a nice flat path at the end. It was again the right decision. By taking the "inviting" direction to the right first we would have to climb the steep elevation at the very end of the hike. And I am not that sure if we would have enough power for that after the earlier day's hike.
This hiking trail looks short on a paper. Albeit these were quite demanding two hours.
It is not that off-the-beaten-path anymore. Thus we saw many older people and parents with small children trying to deal with this cunning trail. Probably they had not explored enough what to expect there. Maybe they were just reckless. Although rather short the trail was certainly not an ordinary walk in a park and requires some level of fitness. It is rewarding in views but it does not come without some effort. Thus check before you go!
#3 Cruz del Carmen to Chinamada Hike
Anaga Mountains And Laurel Forests
Our adventure of hiking in Tenerife was coming to its end. On our last day, we finally saw clear skies above the greenest part of Tenerife – Anaga Mountains. This area seemed not accessible during the earlier days. Yet it was sunny and welcoming on the last day of our trip. "Last chance!", we thought and went there.
The Anaga Mountains stop the humid air masses coming from the Atlantic. Thus thick gray clouds and dense fog are common there. For this reason, unique evergreen laurel forests have developed in this area.
In the past, laurel forests have been quite common in the Mediterranean region. Today they are very rare and have remained only in the Canary Islands, Madeira, and the Azores.
Hiking In A Shadow
Cruz del Carmen to Chinamada hike is a totally different "hiking in Tenerife" experience. It goes through a lush forest and hilly area with beautiful views of green valleys.
The abundant shadow in the laurel forest makes hiking here a pleasant experience.
For the first hour of the hike, we descended in the shadow of the dense laurel trees. This part of the hike is mainly downhill thus being a real joy. The laurel forest has overgrown with humid-loving ferns and mosses. It gives a very special mystical feeling that reminded me of cloud forests in Costa Rica.
Lush Green Valleys
After an hour or so we faced a stunning view of a vast green valley. The Atlantic ocean was hiding behind the mountains in the North. Yet we could still see and feel its presence.
From now on our way to  Chinamada village pleased us with plenty of such breathtaking views.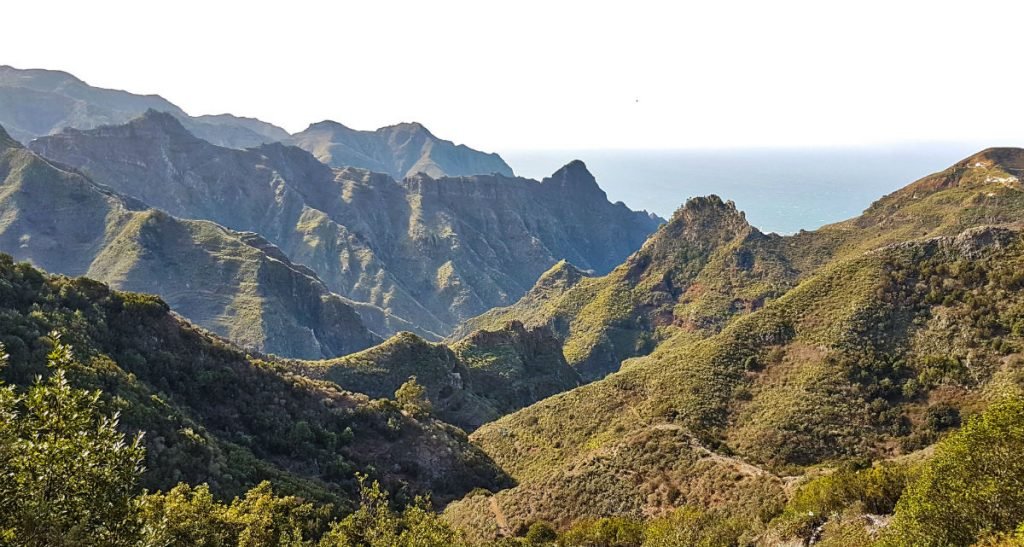 Chinamada village itself was dead silent. There was nobody there and it looked a bit spooky even in the middle of the day.
For a while, we resisted our explorers' tension to continue our hike further down to the ocean. Yet that what had remained out of my common sense did win. It would take twice as much time to get back to our car. Besides, it was already late afternoon.
I was not aware of any options to get back to Cruz del Carmen by any other means than by foot or by car. Our car was in Cruz del Carmen. Hence there was only one option left.
Anyway, climbing back the same way in the hilly terrain in total darkness did not seem a sound solution. Thus not without a pain in our hearts we turned back to our car.
On The Way Back To Cruz del Carmen
We took a bit different way back on a paved road. Yet we did not regret it at all. There were almost no cars and we got a different perspective and new stunning views again. In case you choose this way, do not miss the sign leading back to Cruz del Carmen though.
Finally, we got back on the same laurel forest's trail where we started. It seemed even more mysterious and attractive in the sunset as the sun rays passed the leaves and mosses. We followed the signs and eventually got back to Cruz del Carmen!
I would recommend getting a map in the information center before you go on this trail.
Circular Walks In Tenerife
Hikes are more enjoyable if they are circular walks. First, you see different landscapes. Second, it is much more convenient to return to the point where you started. This gets even more important if you travel by car as you have to get back to it somehow.
While hiking in Tenerife there are not that many options for circular walks actually. Masca walk and the Cruz del Carmen to Chinamada hike are one-way hikes in fact.
In the case of Masca walk, you can choose coming back the same trail. Yet it is a demanding and time-consuming experience of around 9 km each way; especially if you choose coming back uphill.
You can extend 2 hours Cruz del Carmen to Chinamada hike further down to the Atlantic Ocean. That way you will reach Punta del Hidalgo village on the coast. These are another 2 hours. Yet in this case, you have to start early in the morning to get back. Besides, it's the same path back and uphill again. Hence it is not a one day hike for everyone.
Some resources on the web describe Cruz del Carmen to Chinamada hike as a circular one. Yet this is only partly so. Mostly this hike is going the same way both directions.
The best circular walks in Tenerife are in Teide National Park. There are many trails with stunning views out there and they all are marked. Besides, you can always get free maps in the tourist information centers.
Summing Up
Our hiking in Tenerife trip proved to be an amazing experience. I would definitely recommend it in the off-season. This way you will avoid crowds of tourists and get a more of the authentic feeling.
Masca walk will surprise you with stunning rock formations. The great Los Gigantes coast of the Atlantic Ocean will top this adventure.
Cruz del Carmen to Chinamada hike is a different experience in a lush green forest with stunning views of green valleys.
Teide National Park will be the peak of your Tenerife trekking efforts.
All these places are great yet different places for hiking. Each of them will be a different adventure trip.
For the circular walks in Tenerife choose Teide National Park.
If possible avoid driving the curvy mountain roads after the sun has set and during the bad weather. Even though it is a real adventure, probably it is not worth the risk. It will save you some nerve cells as well.
Last but not the least I always recommend choosing an authentic place to stay. This way you will contribute to the local business and local communities. And what's also important you will meet other like-minded people.
See you on the next trip!