Why Eastern Latvia
"Another year has passed! Unbelievable", I came to the first thought waking up on a sunny Friday. It was time to get out of the bed and go for another great kayaking trip.
For the fifth year in a row, I and a dozen of my best friends have an amazing tradition. We spend one weekend in the middle of summer together going on a kayaking trip on Latvian waters. And for the third year in a row, we go to the Eastern Latvia – Latgale. Why? Just because this is one of the most distant and most off-the-beaten-path kayaking destinations that one may choose in Latvia and probably in the of Europe.
You can enjoy adventure travel here and truly be on your own or with your like-minded fellows.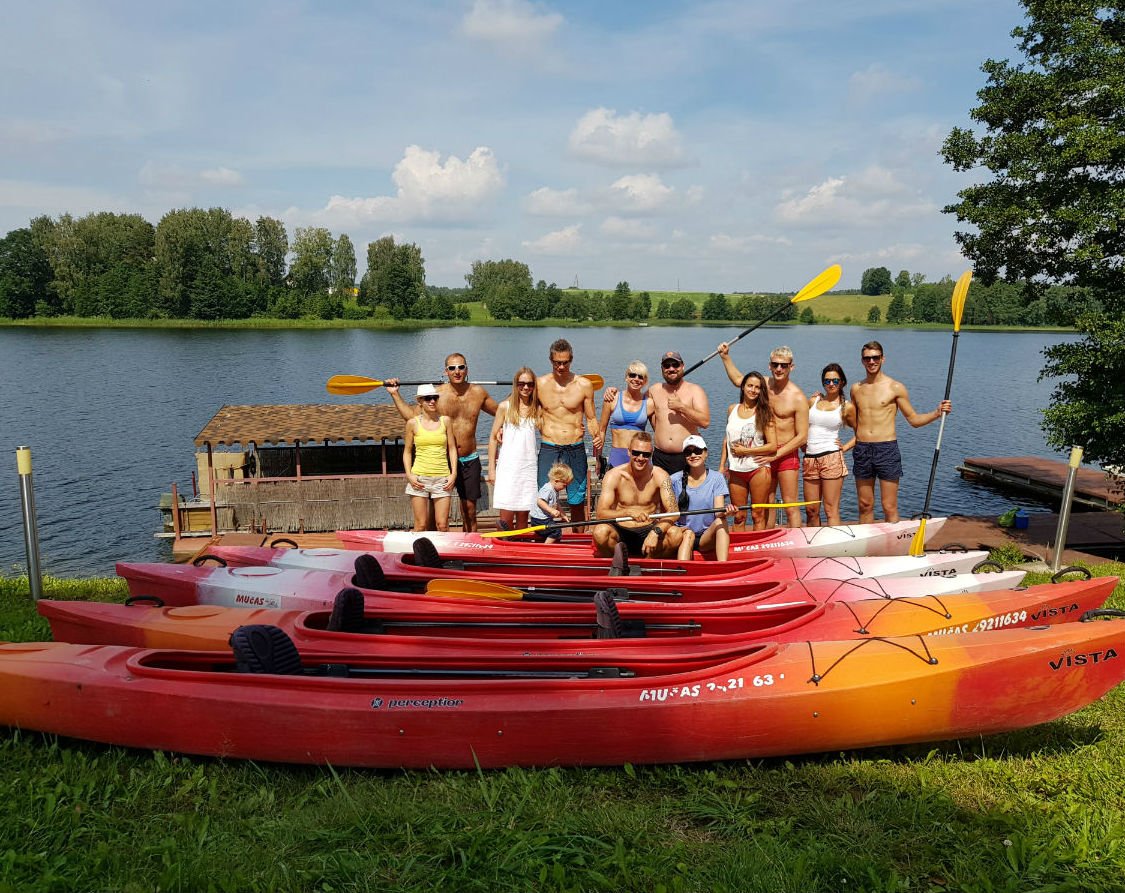 This is also a great eco-travel destination. Here in Latvia, we call Latgale the "land of blue lakes". This is not without a reason. Eastern Latvia is rich with beautiful lakes of different sizes. The best of all – they are largely wild and untamed.
If Latvia is sparsely populated in general, then it's eastern part is truly secluded. Many lakes connect with each other. This makes the kayaking trip there more interesting and more adventurous. Keep reading about it or get a video insight first.
Not The Most Popular Kayaking Trip In Latvia
We chose not the most popular kayaking trip in Latgale. Yet, if you want your kayaking trip to be truly adventure travel this is the way to go. There are only some camping places to stay overnight and even those are not widely advertised anywhere.
This is how you turn your kayaking trip and any adventure travel into sustainable eco-travel. You choose an off-the-beaten-path destination and local service providers. Also, you do not leave any environmental footprint on the local ecosystems.
To find a camping site we had to consult our local kayaking guide Jānis. And even then, we ended up with the place that even he had not attended before.
The man on another side of the phone line did not seem very experienced in receiving guests. Yet, he was still keen in welcoming us.
Four Hours' Drive And Edible Snails
With a dose of skepticism but also with an open mind we headed towards the camping place near the Lake Lejs.
Some four hours' driving from Riga passed more quickly than expected. You see a lot of Latvia on your way.
Following some crazy idea, we stopped to have a small private excursion in the nursery of edible snails (Helix pomatia). But this is what adventure travel is all about – new experiences.
During the last years, some farmers in Latvia have found the way to make a local business out of edible snails' nurseries. They grow them here and export to Western Europe.
Latvians are not keen snail consumers though. This is something relatively new to us. Yet, the local business owners have gone even further. They try to make local products out of this extraordinary snack now. There is a hope that this will create more of an added value and more appeal to the Latvian consumers too.
We tried marinated snails, snail paste and even strong homemade vodka with a snail inside. None of the above mentioned brought me personally to any excitement. Yet, the experience was fun. Some of us even enjoyed it. It's all the matter of taste.
The Most Authentic Camping Site For A Kayaking Trip
We arrived at our camping site in the evening. The host Jānis (it's a popular name in Latvia) looked a bit confused receiving so many guests from Riga. Neither he nor the place itself obviously had a big experience in hosting of adventure travel lovers. Yet, he proudly introduced us with his property.
Almost everything was made by himself there. This included a cozy wooden house and homemade sweet apple wine. He gave us to try it and did not hesitate to take a full glass in one sip by himself too. Well, people are hospitable in Latgale, but they do not forget about themselves too.
The place was an amazing eco-travel destination. It was right at the beautiful lake Lejs. We set up our tents right under the birch trees on the banks of the beautiful lake.
The evening was super calm and warm. The sun was about to descend in a couple of hours. Lake got those gorgeous warm summer's evening colors. And we all went swimming to wash away the daily heat.
Nothing tastes better than a food prepared on a bonfire in a place like this. It almost soaks up all the beauty around and gives you a double dose of energy for your next day kayaking trip.
The place had also some great bonuses like outdoors' kitchen and tables under the shelter in the case of rain. Nevertheless, the rain did not disturb us in these days. It was sunny and hot. Also, the good condition of the dry outdoors' toilet pleasantly surprised us.
Hence, we had found a place that almost nobody knew about. Yet, it perfectly fit our needs for the kayaking trip and spending a great weekend in the very heart of nature away from crowds.
Six Lakes In Two days
Our adventure travel target was to cross six amazing lakes in two days. That said it was about 30 km/19 miles total distance.
Kayaking in rivers is more popular in Latvia than in lakes. It is mostly because of one simple reason. Rivers have the stream, which helps you to get ahead even if you don't paddle a lot. Lakes do not have this advantage. Even worse. If there is a strong frontal wind, you might need to work a bit more to get ahead.
Yet, kayaking in lakes has its own non-repeatable charm.  Each lake is different. Some have many islands, some have none. Many of them connect with channels or rivers. This makes kayaking there so interesting.
We started in Lake Drīdzis. It's the deepest lake in Latvia with a depth reaching up to 65 meters (!). The entry point in the lake is near the guest house "Drīži". Once you're there it's clear why. The view on the lake is nothing less than spectacular.
Drīdzis is also the longest of all the six lakes, and you have to put some effort to cross it.
Each next lake was again different. Ots is a small wild lake to wander around in a kayak. Lake Ārdavs is a curved water body, being almost like a wide river. It has many peninsulas and bays to explore. The next one was Lake Lejs with our beloved camping place on its bank.
We spend another great evening and night there and continued our kayaking trip next day, crossing the last two lakes Cārmins and Jazinks.
Fun Connections
Without hesitation, I must say that the funniest and a bit challenging part of this kayaking trip was getting from one lake to another. Some lakes connect with channels or rivers. Yet, in a dry summer like this, the water level in the streams is low.
Also finding the entrance to such a channel is a tricky task. They are mostly overgrown with reeds. Once you find it, the fun part only starts.
The first connection between Lake Dridzis and Lake Ots was a narrow muddy channel in the forest. We all pulled our kayaks stuck in the smelly mud as deep as our knees. Also, finding our footwear, which tended to sink in the mud from time to time, was itself a hilarious quest. With a good dose of laughter, we finally got to the open waters of Lake Ots.
The second connection between Lake Ots and Lake Ārdavs was a beautiful stream with old trees on its banks. It is a gorgeous place, and we even did not have to pull our kayaks there.
A slightly bigger challenge during this kayaking trip was, however, the place, where the lakes are not connected. Such was the one between the Lake Cārmins and Lake Jazinks. We had to carry our kayaks over the local gravel road and a meadow for around 180 meters. It sounds not that much. Yet, you must have at least two men capable of doing that, as the boats are not that lightweight. We were a big company of twelve people there and we did it well, although it was one hell sweaty challenge.
Mysterious But Stunning Lake Čertoks
The last seventh lake on our route was Čertoks. Yet, it is not a lake for kayaking. You cannot swim there too. Here is why.
The lake is also called Velnezers in Latvian, which means the Lake of Devil. It is not connected with other lakes or any other water bodies. Also, there are no streams flowing out of the lake or in the lake.
Čertoks or Velnezers is a small lonely water body standing in a beautiful dry pine forest. Its water is very clear. The flora and fauna of the lake are not very abundant though.
Čertoks is also a nature reserve. On a sunny day, the water in the lake is bright green and transparent. It is not that typical for the lakes in Latvia. However, the lake may change its color depending on the weather.
What is really strange that there are no birds sing in its surroundings. It is a very silent yet beautiful place.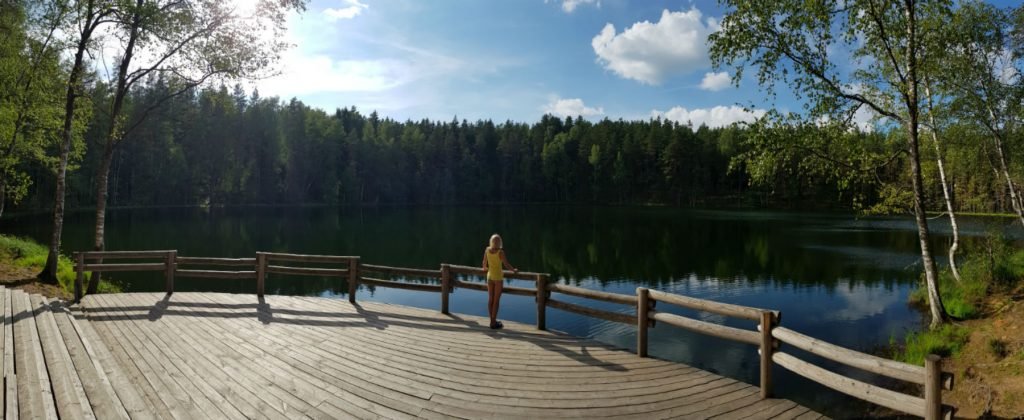 Legends say that this lake has a strong energy and people often get lost in its surroundings. These legends are also the reason people avoid swimming there.
There are also protected plant species on its banks including pasqueflowers (Pulsatilla) and club-mosses (Lycopodiopsida).
Whatever is the real story of this mysterious lake, Četoks leaves a deep impression. Maybe it is its meditative silence that affects you so much if you listen.
Summing Up
Without any doubt, a kayaking trip in Eastern Latvia is a very special experience. You'll immerse yourself in a truly pristine nature and authentic environment. This is a great way to enjoy the benefits of eco-travel and sustainable tourism to its fullest. This is also an amazing way to see real Latvia.
Kayaking trip in lakes may be more demanding than the one in rivers. Yet, it's not exhausting but real adventure travel and true enjoyment.
There are different options for a kayaking trip in Latgale. One is the 30 km/19 miles option in 6 lakes described above. The alternative would be also replacing Lake Drīdzis with Lake Sīvers and staying overnight on one of its islands. Another great 35 km/22 miles long kayaking trip would be in the lakes Zolva, Rušons and Cirīšs described here. These lakes connect with the fastest river in Latgale – Tartaks. This makes kayaking there even more exciting.
You will need at least two days to enjoy these off-the-beaten-path experiences, but they are worth it. Try!
These alternatives are, however, in no way the only ones. There are plenty of other great kayaking trip options in Latgale and in other places of Latvia. Get to know more about them here!
In case you are interested in a custom-made kayaking trip in Latvia do not hesitate to contact me on rolands@escaperies.com. Or just book your trip easily with "i-Dā" Adventures at www.idaadventures.com.